USB Rechargeable
Product Overview

Rechargeable USB Battery Li-ion 18650:2600 mAh

Model: 18650USB-3.7-2600

Contact us:siling.soshine@gmail.com

or use this form to request a quote.
Description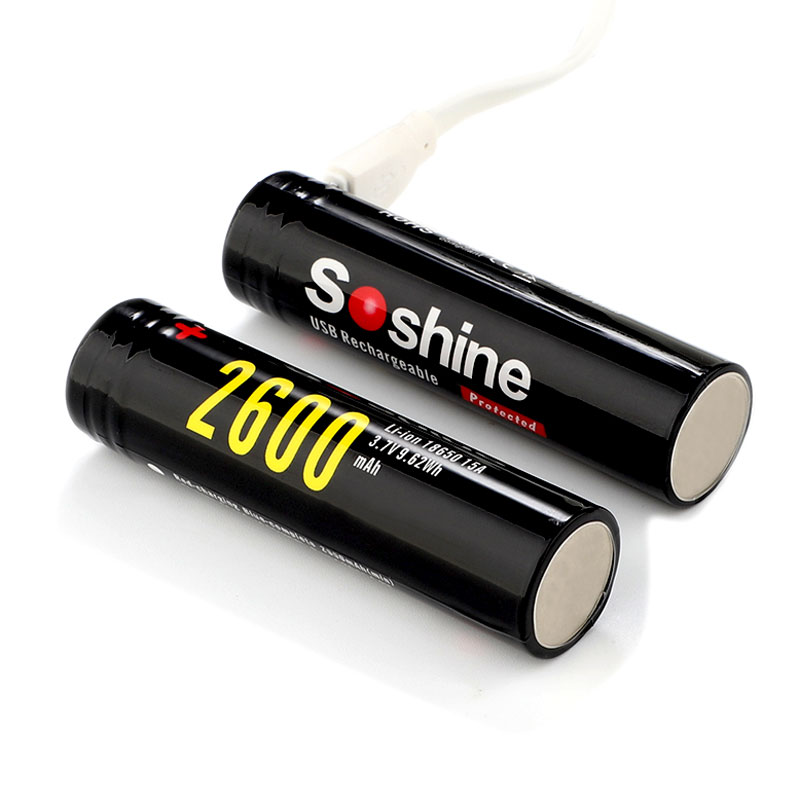 The battery can be charged by its own USB port and by the charger as well. A protective circuit is built into the anode.
Battery height only 68.5 mm
Features:
- Micro-USB charging port with LED to indicate if battery charging done.
- Protection circuit built in the anode.
- Multiple protection with Pressure Relief Vent.
- Short circuit protection, Over charge protection, Over discharge protection
- 1000 charge cycles (A properly maintained battery is designed to retain up to75% of its original capacity at 1000 full charge and discharge cycles)
Specifications:
Model: 18650USB-3.7-2600
Battery Type: 18650 rechargeable
Chemistry: Li-ion
Nominal Capacity: 2600mAh
Minimum Capacity: 2500mAh
Nominal Voltage: 3.6V
Charge Voltage: 4.2V
Internal resistance (mΩ):48-51
Max. Discharge Current: 2.5A
Charging current by charger: 1A(recommended) 2A (maximum)
Charging current by on-board USB port : 1A
Warranty: 12 months
Dimensions:
Battery Size (D x H mm): 18.6x 68.5
Package Size (L x W x H mm):90x76x25

Weight:
Battery Weight:45g(1PC), 180g(4PCS)
Battery +case with Package Weight: 220g
LED indicator:
Charge---red,
Charge complete---green
Includes:
- 4 x direct USB rechargeable 18650 Li-ion battery
- 1 x 18650 battery case
Note: Batteries are shipped from factory with partial charge to meet optimum storage conditions. Fully charge before use.
Warnings: Do not expose battery to heat or throw into water. After extended periods of storage, it may be necessary to charge the battery to obtain the maximum performance every three months.Keep the battery out of reach of children.
This product is patented.
Certification /Test Report download:
Time:2018-06-12 Views:
1768