Primary Battery
Product Overview

Lithium AAA 1.5Volt Battery

Model: AAA(Lithium)

Contact us:siling.soshine@gmail.com

or use this form to request a quote.
Description
Soshine Lithium AAA 1.5Volt Battery with Battery Storage Case
Model: AAA(Lithium)*8
Bar code:6951151513410
Features:
Package:4 Packs AAA 1200mAh Lithium Batteries (Non-rechargeable) and battery storage case.
Super long storage life span, up to 10 years, environmentally friendly and less waste.
Long-lasting up to 6x than alkaline batteries digital cameras, handheld GPS more with hightechnology.
Performance batteries devote on extreme temperatures: -40 to 140F.
Portable taking batteries with durable battery case - 33% lighter than standard alkaline batteries - ideal for year-round, indoor and outdoor use.
Specifications:
Type: Lithium/Iron Disulfide
Model: AA (Lithium)
Dimension (mm): D10.5,H44.5
Nominal Voltage:1.5V
Capacity Nominal: 1200mAh(Ave.)
Nominal discharge current: 35mA
End voltage of discharge: 0.8V
Weight: 7.3g
Temperature: Operating temperature : ‐40~+60℃
Storage temperature: : -10~+25℃
Storage life:10 years@21℃
Dimensions:
Battery Size (D x H mm): 14.1x 50.4 (1PC)
Package Size (L x W x H mm):51x 50 x16(4PCS)
Package Size (L x W x H mm): 91.2x 52.8 x 15.9(8PCS)
Weight:
Battery Weight: 7.3g (1PC), 29.2g (4PCS), 58.4g (8PCS)
Battery with Package Weight: 37.2g (4PCS)
Battery with PackageWeight: 78.4g (8PCS)
Package included:
4 xAAA Lithium Batteries / 8 x AAA Lithium Batteries;
1x Battery Storage case.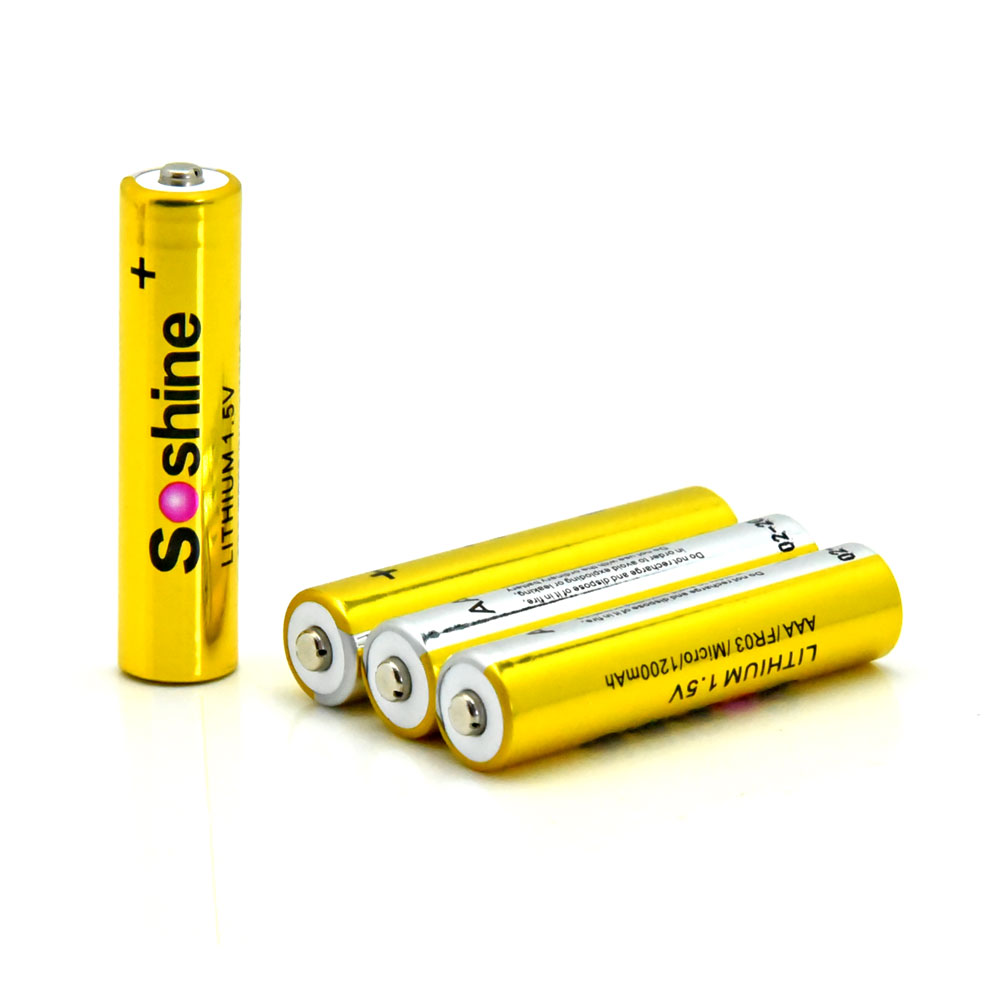 Time:2018-03-26 Views:
1418