Li-ion Charger
Product Overview

Input:DC 12V 1A
For Flashlight/Torch 17650 18650 Li-ion battery
2pcs Li-ion batteries
2LED indiactor
Quickly(1A CC/CV),safe


Model: SC-S2

Contact us:siling.soshine@gmail.com

or use this form to request a quote.
Description
for 1 or 2pcs cylindrical Lithium-Ion (Li-ion) 17650/ 18650 / 18650 (protected) battery
Bar Code: 6951151524485
This charger is an intelligent charger especially designed to charge rechargeable 18650 /17650 Lithium-Ion batteries.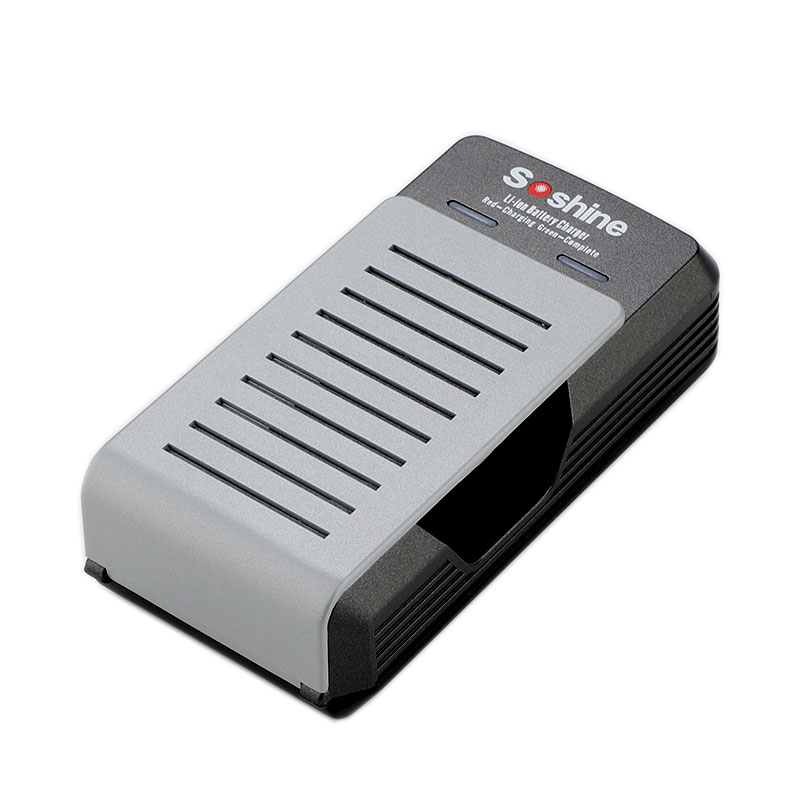 Feature:
- End-of-charge voltage detection assures the safe and full charging any time
- Short-circuit protection
- Over voltage cut-off protection ----- prevents damage to your battery due to over voltage
- Complete individual channels ------ convenience; prevent 2 batteries charge each other
- Charge Method: CC/CV -------------- Charge battery fully and quickly
- Reverse polarity protection --------- prevent damage to your battery and charger
Specification:
Input::

12V DC

1000mA (min)
Output:

1000mA*1pc or 1000mA*2pcs
Charger Size(mm): 109 x 58 x 32
Package Size(mm): 182 x 115 x 38
Charger Weight(g) :89
Charge+AC Adaptor+ Car Plug(g):230
Charger with Package Weight(g):272
Package included:
1 x Charger(S2)
1 x AC Adaptor (US/EU/AU/UK)
1 x Car plug
LED indicate:
Red on ---------------- Battery Charging
Geen flash---------------80-90% complete
Green ------------------- Charge complete
Red-green flash------ Battery wrong
Turn off ------------------Stand by
Charge time:
Type

Model

Voltage (V)

Capacity(mAh)

1 /2pcs Charge Time (h)*

Li-ion

18650/protected

3.7

2800

3.5

18650/protected

3.7

2600

3.2

18650/protected

3.7

2400

2.9

18650/protected

3.7

2200

2.6

18650/protected

3.7

2000

2.4

18650/protected

3.7

1800

1.8

18650/protected

3.7

1600

1.6

17650

3.7

1600

1.6

17650

3.7

1400

1.5
*This chart is for your reference only. The actually time may short than the chart.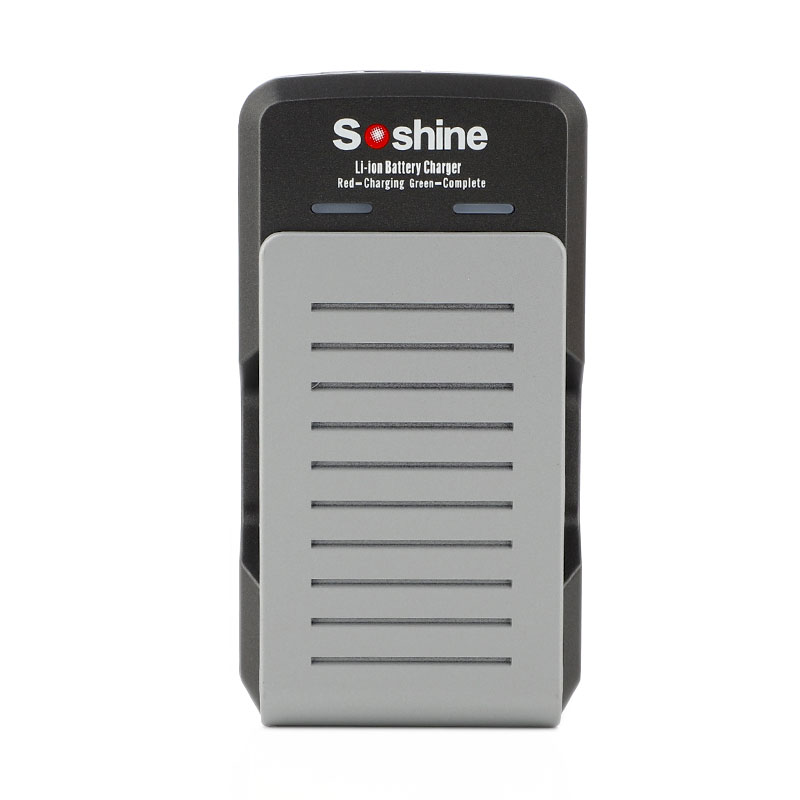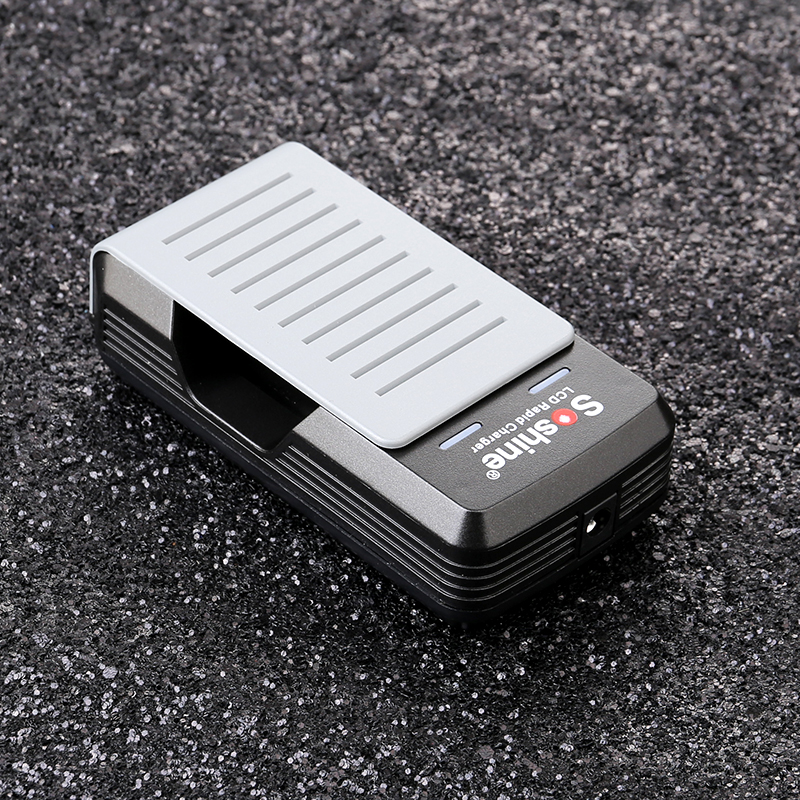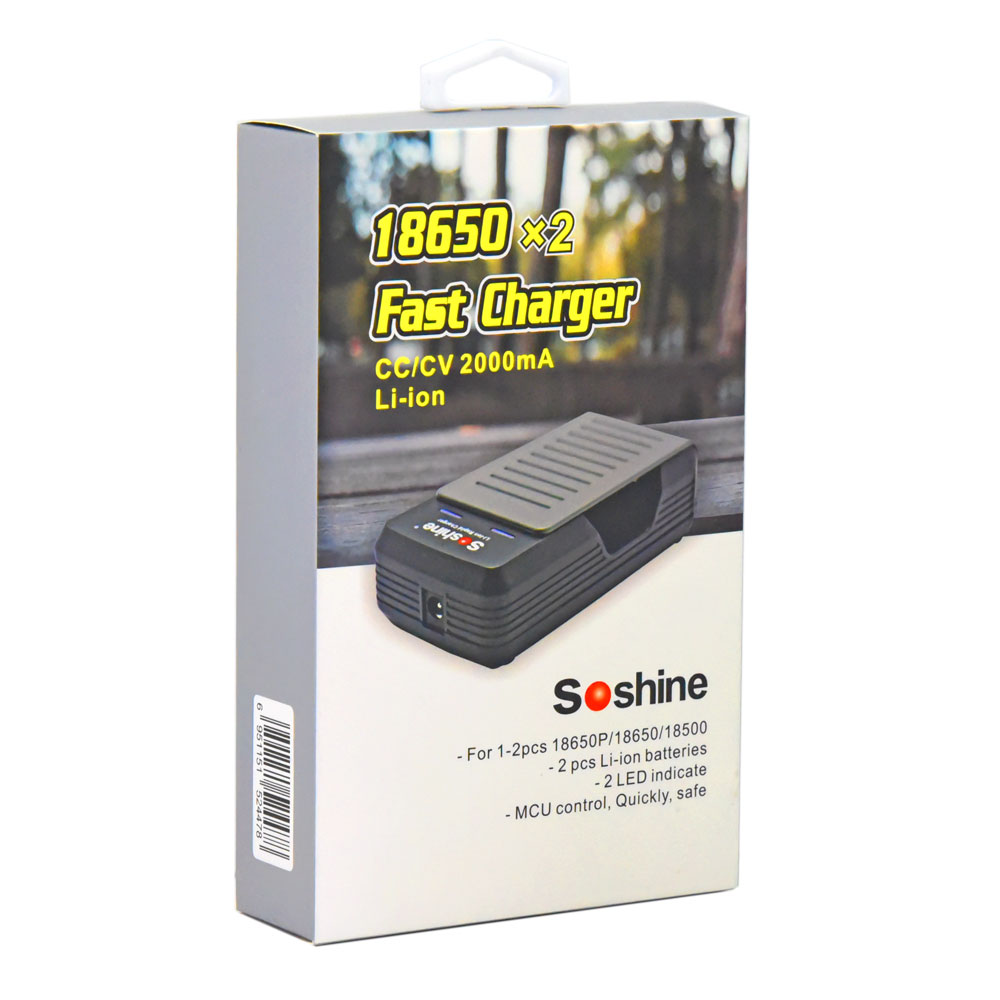 Not charging all the way?
1. Polarity reversed; Make correct contact for polarity (+ and -) according to the sign in the battery compartment until LED from blue turn red. This charger cannot Polarity Auto Detection
2. Loose connections between battery and charger ,replace battery into the battery compartment, turn the battery until LED from blue turn red.
3. Use no-rechargeable battery, like Lithium batteries or Ni-MH Ni-Cd battery ,this charger only for Lithium Ion batteries, you should change battery.
4. Gently rub battery ends with a clean pencil eraser or cloth to remove any residue, load the battery into charger in right side until LED from blue turn red.
Tips:
It is normal for batteries to warm up while charging. They will cool down after they are charged.
If they are not used for more than one year, charge the battery complete.
Warning:
To avoid personal injury and property damage from, but not limited to ,the risk of electric shock or fire:
Charge only rechargeable Lithium-Ion batteries. Charging any other types of batteries may cause them to leak rupture or explode.
Do not disassemble, modify any part of the charger ,or attempt to use the chargers as power source
Always unplug the charger from outlet before attempting maintenance or cleaning,
This charger is not a toy and should not be used by children or infirm persons without adequate training or supervision.
Approve: adaptor UL CE EK PSE SAA
Material: ABS ROHS
One year warranty
This Soshine product is warranted only to the original purchaser upon presentation of proof of purchase, to be free from defects in materials and workmanship for one year from date of original purchase provided that no other repairs, alterations or modifications had been attempted by unauthorized personnel. Not applicable to damage caused by normal wear and tear or misuse. Repair or replacement of charger at Soshine option. For more information, please contact your nearest Soshine sales office.
Patent No.: ZL 2010 3 0182862.3
Time:2011-09-30 Views:
6581