18650 26650
Product Overview

7500 mAh Rechargeable Battery

Model: 32650-3.7-7500

Contact us:siling.soshine@gmail.com

or use this form to request a quote.
Description
Soshine NCR 32650 7500mAh 15A 3.7v Rechargeable Flat Top Batteries-Black
Model:32650-3.7-7500
Bar code:6951151512215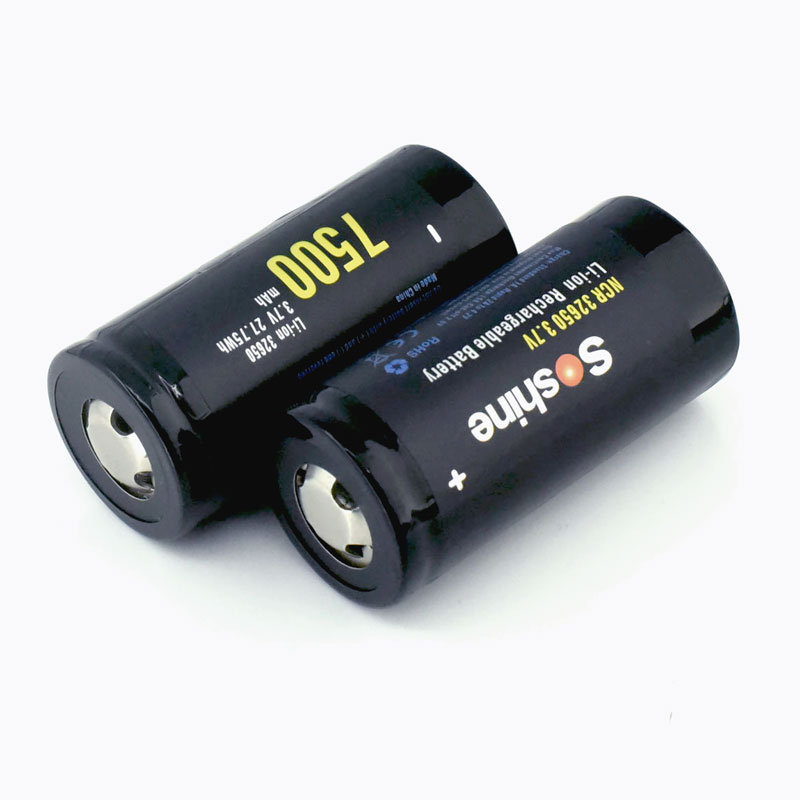 Features:
- High energy density, long life battery.
- With high Battery capacity. Provides excellent continuouspower sources to your device.
- This battery has an extra long life for all your batterypowered devices.
- Wide application. Particularly suitable for flashlight,electric tools, electric bicycles, electric vehicles.
Product Details:
Material: Li-ion(NCR)
Type: 32650
Nominal Voltage: 3.7V (at 0.2C discharge current)
Capacity:7500 mAh(Typical),
7200mAh(Minimum) (From 4.2V to2.8V at 0.2C discharge current)
Charge Method:CC/CV (Constant Current/Constant Voltage)
Charge Voltage: 4.2±0.049V
Charge Current: 1000mA×7hrs (Standard)
2000mA×4hrs (Rapid)
Discharge Current: 3750mA(Normal Discharge Current)
18000mA (Maximum Continuous Discharge)
Pulse Discharge Current:25A
Discharge Cut-off Voltage:2.75V
Size:32.4x69.3mm
Weight:118g

Time:2015-09-24 Views:
3048