AAA | AA | C | D
Product Overview

D Size Rechargeable Battery low self-discharge 11000mAh

Model: RTU D11000

Contact us:siling.soshine@gmail.com

or use this form to request a quote.
Description
Soshine D/R20 Size Rechargeable Batteries NiMH 11000mAh
Model:RTU D11000
Bar code:6951151511614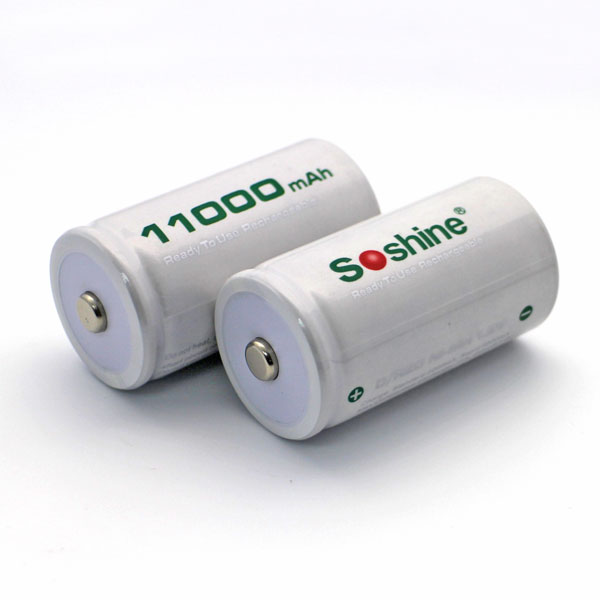 Ready to use:low self-discharge D rechargeable NiMH battery
No Memory Effects - NIMH cells does not require draining before a charge.
Very long life time and can be recharged up to 1000 times.
Higher Current Capabilities - ideal for high drain applications.
High quality D size 11000 mAh high capacity nickel hydride metal (Ni-MH) rechargeable batteries.
Longer & More Consistent Runtime.
Compatible with all chargers that support NiMH rechargeable batteries Features and Benefits.
Can be rapidly charged with smart chargers and universal chargers.
12 months warranty.
Specifications:
Material:Ni-MH
Size: D R20
Model: RTU D11000
Nominal Capacity(mAh): 11000 mAh
Minimum Capacity(mAh): 10000mAh
Standard Charge: 8 hours @ 2200 mA
Rapid Charge: 2.5 hours @ 5500 mA
Discharge:2000mA (1.0V)
Nominal Voltage: 1.2V,charged 1.45V
Internal Impedance:≤20mΩ
Cycles Test:≥500 Cycles( IEC61951-2:2003)
Dimension: Height 61-1.5 mm, Diameter 33-0.1 mm
Weight:168g(1 cell), 315(2pcs with package)
Specification download:
Time:2014-07-5 Views:
3330