Solar Charger
Product Overview

Soshine Solar Charger,Solar Panel

Model: W10

Contact us:siling.soshine@gmail.com

or use this form to request a quote.
Description
Universal 5V1.5A Four-Panel 10-WATT Rapid Solar Charger
For iPhone ,Smartphones, Tablets & Other USB Powered Devices
Model:W10
Bar code:6951151520814

Converting virtually unlimited supply of solar power to much needed battery for your mobile devices such as an iPhone, smart phones, Blackberry and many more compatible USB portable devices while you are on the go or there is a power outage or disaster strikes, the Soshine Solar Charger W10 is a light and compact USB solar charging system that easily fits in your messenger bag or backpack. Measuring 25.5 x 11.6 x 4.2cm when folded and weighing less than 475g, it combines four solar panels totaling 10 watts .
With a built-in 2,000 mAh rechargeable Li-ion battery pack for power storage and current stabilizing, the W10 is sophisticatedly designed and engineered and comes with standard USB port for directly plugging in your cell phones including all generations of iPhones, MP3 players, USB battery/power packs and many other USB compatible mobile devices. If your cell phone comes with a USB charging cord to connect to a computer, then you only need to connect your phone to this USB solar charger, no other charging adapter needed.
With Soshine universal charger H2 ,you can use the W10 charge most of battery such as Li-ion/LiFePO4 26650 18650 16340,Ni-MH AA AAA.Ni-MH/Li-ion 9V.
Features:
Collects 10 watts of solar power.
Use solar power with USB devices.
Can charge most cell phones in 2 to 4 hours.
Protect devices.
Foldable, rugged design and water resistant.
Protective.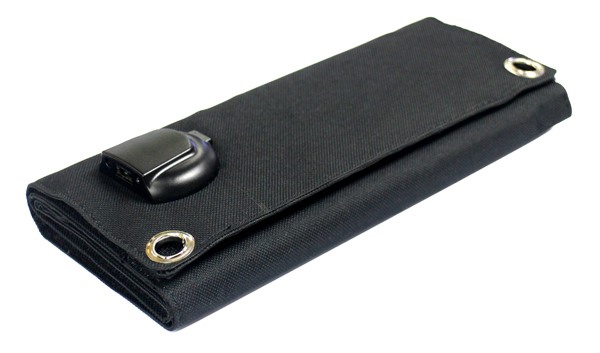 Specifications:
Solar Panel Wattage: 10W
Solar Panel Type: Monocrystalline
Open-Circuit Voltage: 5.5-6V
Conversion Efficiency: 17-18%
Solar Cell Area: 0.064 square meters
USB Output: 4.5-5V, 1.5A (max.)
Operating Temperature: 0-120 F (-17-48 C)
Unfolded Size: 610 x 249 x 18 mm
Folded Size:255 x 116 x 42 mm
Weight: 475g
Time:2013-09-21 Views:
6989