Ni-MH Charger
Product Overview

Quickly,Convenient,Inteligent

Model: V1(Ni) /V1(Fe)

Contact us:siling.soshine@gmail.com

or use this form to request a quote.
Description
9V Li-ion Ni-MH LiFePO4 Rechargeable battery charger
In 2016, Soshine pioneered 9V battery horizontal charging, which is convenient for the battery to
be put in and taken out without damaging the battery and charger hardware.
The third-generation original intelligent fast charging technology is suitable for 9V batteries of
various voltages, enough to fully charge 9V batteries 100% safely, and the global voltage
AC100-240V input is suitable for use all over the world.
Model:V1
Bar Code:6951151521354
Ideal for the following applications:
Microphones
Remote Controls
Power-hungry Equipment
Feature:
Charge for 1-2PCS 9V Battery
Smart charger, independent charging, automatic stop charging
voltage and polarity detection
Auto alert indication for worse battery pack and bad battery
Quick safe
Mix charger Horizontal charge, easy to use
Specifications:
Input: AC100-240VAC, 50/60Hz
Battery type: 7.4V Li-ion/ 8.4V Ni-MH /9.6V LiFePO4 9V battery
Output:Li-ion 8.4V 250mA*2
Ni-MH 9.8V 150mA*2 (7 cells)
LiFePO4 10.8V 150mA*2
Input: AC100-240VAC, 50/60Hz
Battery type: 7.4V Li-ion/ 8.4V Ni-MH /9.6V Ni-MH 9V battery
Output: Li-ion 8.4V 200mA*2
Ni-MH 9.8V 150mA*2 (7cells)
Ni-MH 11.2V 150mA*2 (8 cells)
Colour:white
Charger Size(mm): 90*61*23
Package Size(mm): 164*116*30
Charger Weight: 29g
Charge+AC Cable: 88g
Charger with Package Weight:112g
Package included:
1 x Charger(V1)
1 x AC Cable (60cm)(US/EU/UK/AU)
1 x Instruction manual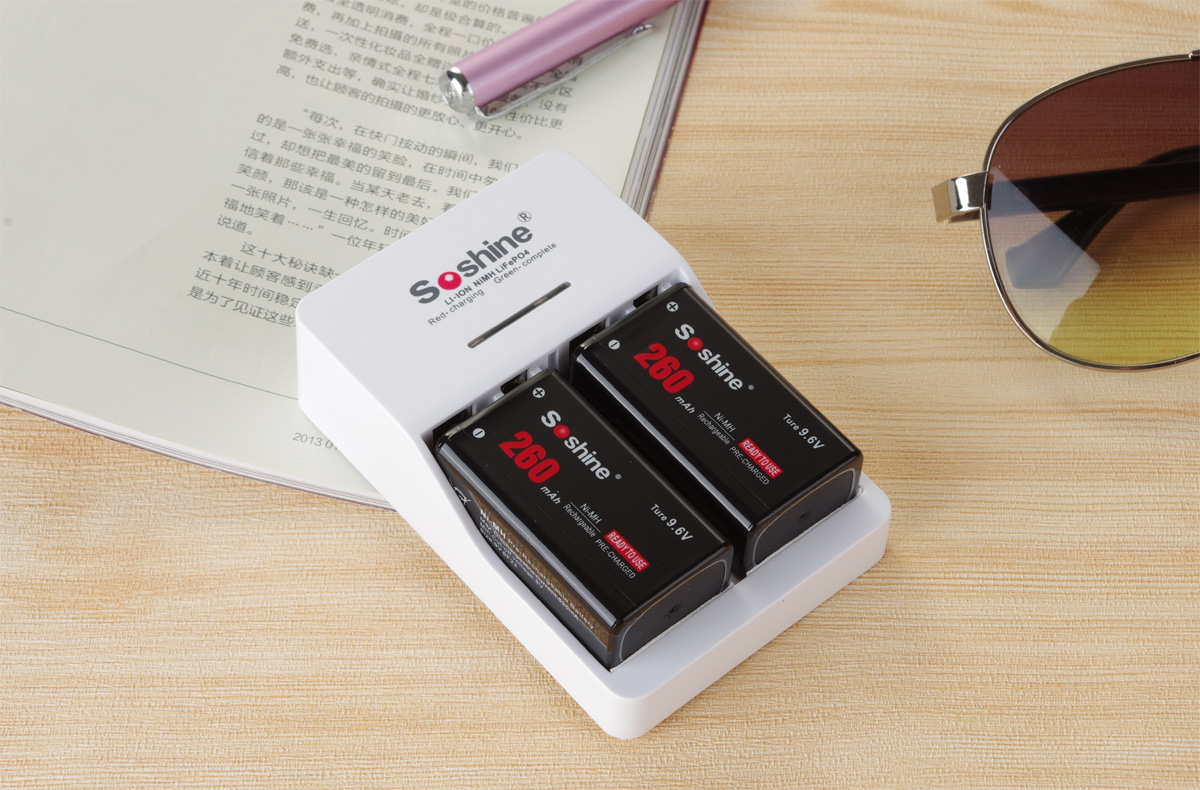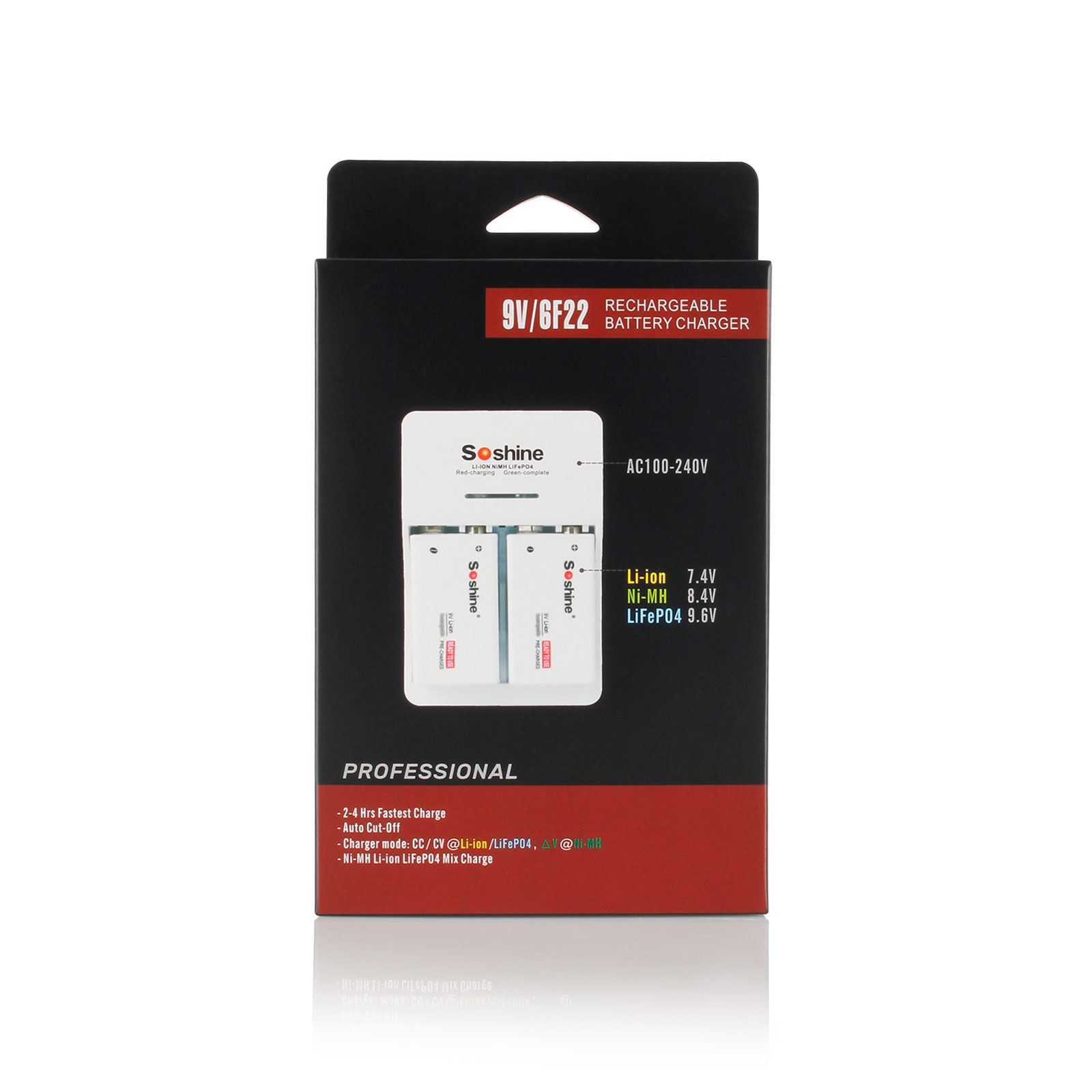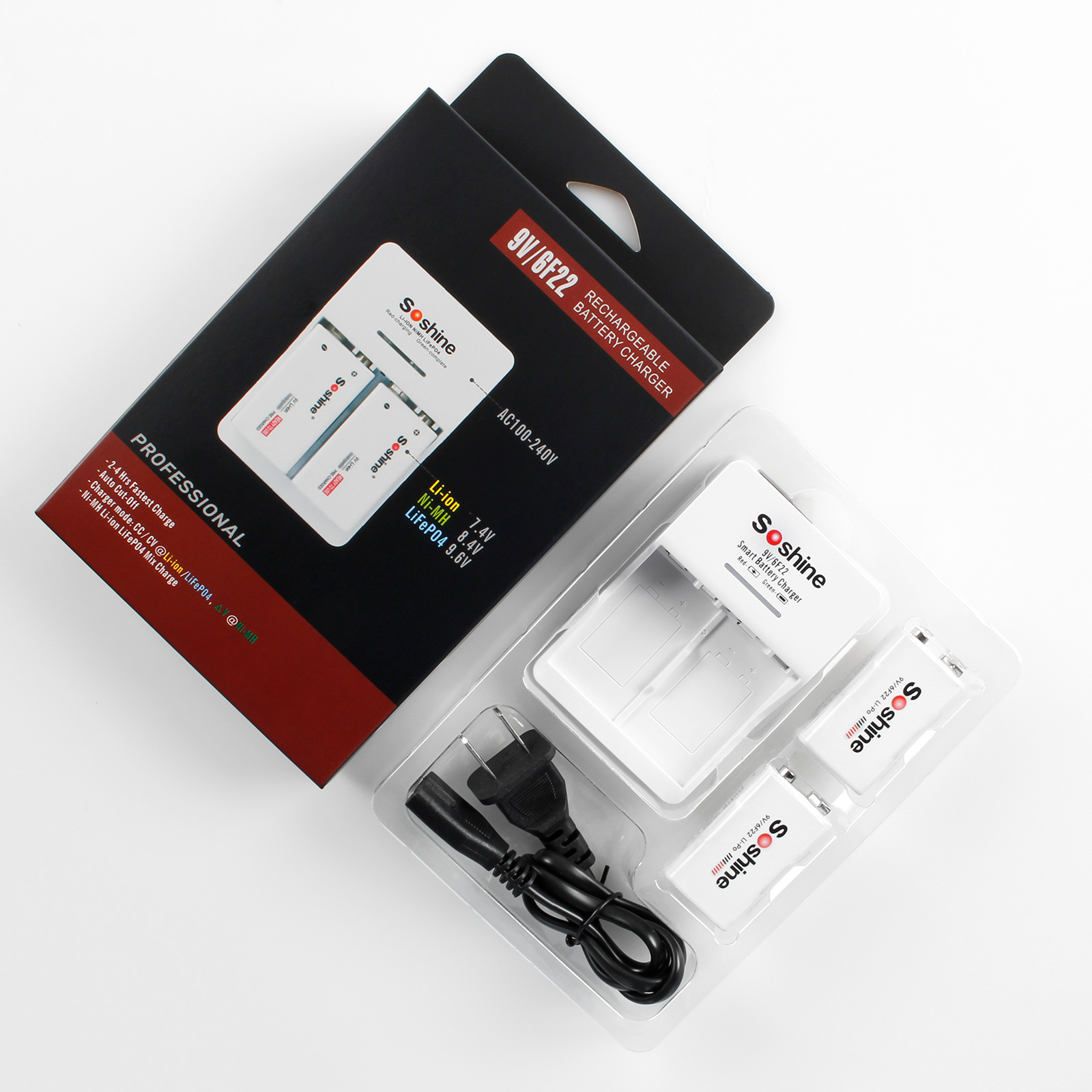 Soshine 9V/6F22 charger V1(Fe) instuction manual download:
http://www.soshine.com.cn/Down46.aspx
Soshine 9V/6F22 charger V1(Ni) instruction manual download:
http://www.soshine.com.cn/Down47.aspx
Certification download:
RoHS: http://www.soshine.com.cn/Down94.aspx
CE-EMC: http://www.soshine.com.cn/Down95.aspx
Time:2012-05-27 Views:
14366